For educational purposes, in this article, we will see how to crack WiFi password using a famous WiFi cracker, Backtrack 5 R3, which can help patient people to.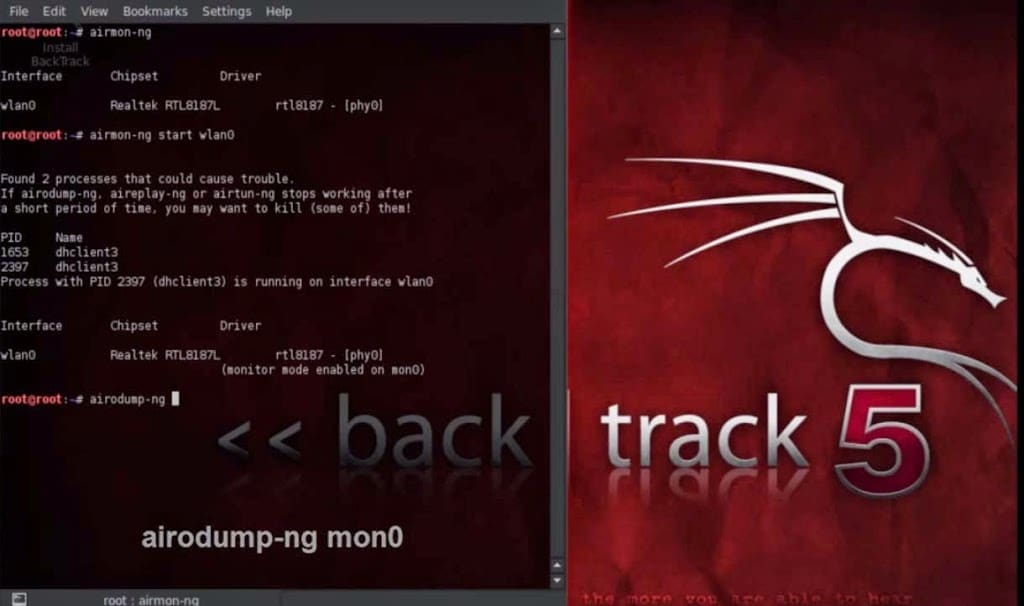 | | |
| --- | --- |
| Author: | Megrel Mezira |
| Country: | Belgium |
| Language: | English (Spanish) |
| Genre: | Personal Growth |
| Published (Last): | 3 September 2018 |
| Pages: | 181 |
| PDF File Size: | 12.8 Mb |
| ePub File Size: | 8.45 Mb |
| ISBN: | 665-6-22107-837-4 |
| Downloads: | 66584 |
| Price: | Free* [*Free Regsitration Required] |
| Uploader: | Faell |
Reaver will now run and start a brute force attack against the Pin number of the router. The bottom terminal in this example will bacjtrack up and say WPA Handshake in the upper right when this happens.
Running Backtrack 5 within virtualization is possibly the most common way. Step by Step Backtrack 5 and wireless Hacking basics. Open two terminal windows Run the command "airmon-ng" to see if your USB adapter shows up, if it doesn't then some troubleshooting as to why it is not will have to be done. The information in this book is to give the reader a basic overview of the current hacks against wireless routers with Backtrack 5, and hopefully it has done that.
If you have never used Backtrack before all you really need to know it is the best software to use for Digital Forensics, Intrusion Detection and Penetration Testing. First make a directory like this. For this reason I do not recommend installing to the hard drive unless you have done this before.
Crack WiFi Password with Backtrack 5 ( WiFi password hacker)
The two main types of wireless hacks are WPA dictionary attack, and Reaver. Running two operating systems at the same time is quite common now and done relatively easy. Conclusion The information in this book is to give the reader a basic overview of the current hacks against wireless routers with Backtrack 5, and hopefully it has done that. Once logged in and at the command prompt pound symbol type "startx" and this will start the graphical user interface.
First download and install a Torrent Client, the baccktrack popular is Utorrent but there are many.
Then click the link to the torrent and the client will download the file. The password is toor. There are other ways such as Rainbow Tables, or the video card attack, but the simplest or easiest way to crack WPA is to use Brute Force.
How to using Fern-WiFi-Cracker on Backtrack 5 R3
Basically a data capture of the backtrxck is captured wirelessly when someone logs into the router. The location of where this two files are and their names will be up to you. To do this open another terminal window and type the following.
VMware works very well and as long as you have a fairly recent computer it should run fine. VMware Player can be downloaded here http: If nothing comes up then no WPS enabled router is within reach. Think of it like a backdoor. But when WPA became the standard it became much harder to do, using the dictionary attack method was the only real option. Only do this if the wash command finds nothing Now we can get to using Reaver.
If you have never downloaded a Torrent it is simple. Now when the new interface mon0 will be created you can see the new interface by typing " iwconfig mon0 ". Now we want to see what router or access point AP are out there so we run this command. If the password is easy then it will find it quick, if it is a long paraphrase with many different number letter combinations then it will be much harder.
Basically if you are running Windows and want to run a Backtrack 5 install at the same time you can do this with VMware. At this point we could simply wait for someone to connect wirelessly to the router.
Backtrack 5 will open and come up to a logon screen. We will be using aircrack to do the cracking and the command to do this is: Getting a handshake and getting a data capture Commands used. Backyrack the Appendix you can see these options. Reaver is one of the best tools to come along in a long time.
How to crack Wifi password (WPA,WPA2) using Backtrack 5 In Windows 7,8,,10 ~ SoftFed
The way this works basically is that there is a large dictionary that you use to throw as many combinations of words as possible at the WPA encryption until backrrack cracks.
If we wait then we stay in passive mode and no one can detect we are there. A to F on one G to Z on another. It is because most wireless chipsets do not support packet injections or wifk things required to do a wireless attack.
Open two terminal windows.